Sri Lanka Association of Software and Services Companies (SLASSCOM), the Knowledge and Innovation Chamber, held its first digital Annual General Meeting on 30th June 2020, powered by Microsoft Teams. During the AGM, SLASSCOM elected its new Chairman, Board of Directors and General Council for the year 2020/21.
The departing Chairman Ranil Rajapakse stated, "From small beginnings ten years ago, today SLASSCOM, as the leading industry chamber for knowledge and innovation, plays a key role in promoting the IT/BPM industry and branding the country as a destination for top talent, expanding and upskilling the talent pool, and building a strong linkage between industry, academia, and government working together to drive the industry forward. While congratulating the new Chairman and team, I look forward to SLASSCOM's continued role in contributing to the growth of the industry and positioning Sri Lanka as a global center of excellence in knowledge process outsourcing, high-end product engineering and IP creation".
SLASSCOM elects new Chairman Channa Manoharan. The elected Board of Directors include: Sandra De Zoysa – Vice Chairperson, Ashique Ali – Vice Chairman, Shevan Goonetilleke – Operations Director, Jehan Perinpanayagam – Finance Director, Haridhu Abeygoonaratne, Nuwan Perera, Nishan Mendis, Shehani Seneviratne, Shiraz Lye, Boshan Dayaratne, and Anura Alwis.
Addressing the participants, the new Chairman Channa Manoharan said, "Serving as the Chairman of the SLASSCOM is a tremendous honour and privilege. As we navigate through challenging times, our focus will be on helping our stakeholders to build and grow the businesses and organisations of tomorrow. Our industry outlook remains positive and we are confident of growth in our industry due to opportunities arising from accelerated digital adoption in our key markets. Our key focus will be on market expansion, accelerators to position Sri Lanka's product engineering and IP creation capability, and supporting the startup ecosystem to encourage the next generation of companies. We intend to partner with governments and academia to attract global brands to set up operations in Sri Lanka and also to influence education reforms to create the right pool of talent to support our industry".
Nominations to the SLASSCOM General Council from member companies were made and approved. The General Council for 2020/21 are: Sampath Jayasundara, Mudith Uswatta, Shanaka Fernando, Rohan Fernando, Chamil Jeewantha, Shehan Kumar, Sisira Kumara, Janith Gunasekera, Hasith Yaggahavita, Shehan Selvnayagam, Dileesha Rajapakse, Jagath De Silva, Mangala Perera, Tharindu Adikari, Rahal Jayawardena, Gehan Dias, Haresh Perera, Tharindra Jayamaha, Priyantha Bethmage, Feroz Cader and Sanharsha Jayatissa.
We wish them a successful year ahead.
About SLASSCOM
SLASSCOM is the national chamber for the knowledge and innovation industry in Sri Lanka, active in facilitating trade and business, propagation of education and employment, encouragement of research and innovation and supporting the creation of a progressive national policy framework in the interest of the IT-BPM industry. SLASSCOM drives the Imagination Economy: Sri Lanka's Industry of the future, with the potential to become the #1 export revenue earner for Sri Lanka.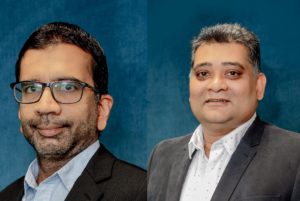 Photo Caption
From Left to Right – Ranil Rajapakse Outgoing Chairman of SLASSCOM, Channa Manoharan New Chairman of SLASSCOM